Personal Online Banking

Queenstown Bank is committed to offering our customers the best banking products and services available. Our continuing enhancements to Queenstown Bank's Internet Banking service are just an example of that commitment.
Getting Started
Enrollment is easy, simply click on "New User" located inside the Personal Online Banking Login box. After a quick verification process you will be prompted to create a User ID and password and choose 3 security questions/answers that will assist with authenticating your identity.
You can also set up alerts through Personal Online Banking to help you better manage your accounts. When logged in, click on Alerts from the list at the top right hand side of the page. Alerts can be sent to you through Personal Online Banking, directly to your inbox or to your mobile device. Log in and start setting up alerts today.
Unable to Access Online Banking?
For your security, users that have not accessed personal online banking for more than 6 months will be unenrolled from our system. To re-enroll, follow the "Getting Started" instructions above.
NotifiSM Online Banking Alerts
Know what's happening with your finances, the moment it happens.
With real-time alerts you can keep even better track of your money and spend less time doing it. Want to know if your balance drops? How about when a deposit is made? With our real-time alerts, you'll know the moment it happens, without ever logging in. They're not only convenient, they can also help you spot signs of fraud and identity theft. Plus there's a variety of alerts to choose from. The notifications you receive are completely up to you. If an alert is triggered, it can be delivered to your mobile phone via text message, your email in-box, or within online banking.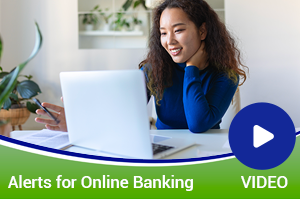 eStatements
Personal Online Banking also gives you the option to begin receiving your monthly bank statement electronically, also known as an eStatement. Why? Well, here are some reasons...
Green
By eliminating that monthly piece of paper, you cut down clutter... not a tree.
Secure
By switching from your mailbox to your inbox, you reduce the chance of mail theft.
Fast & Free
You'll receive your statements sooner, eliminating delays caused by postal mail delivery. And best of all, they are free. Who doesn't like free?
You are not obligated to participate in this program, but if you want to begin receiving your statement online, you can complete eStatement enrollment during the online banking enrollment process or by selecting Electronic Statements on your online banking profile page any time after you enroll. If at any time you decide this is not a feature you wish to continue, contact us and we will change your statement and disclosure delivery back to paper.
Bill Pay
Within Personal Online Banking you can easily enroll in Online Bill Pay through CheckFree (Queenstown Bank's Bill Pay vendor). With Online Bill Pay you can view and pay all of your bills – from your painter and handyman to your doctor – on one secure website. With Online Bill Pay you can: pay any bill, anytime, stop or change payments anytime, schedule payments in advance and add any bill quickly with limited information.
Quick Facts
Pay anyone in the United States that you would normally pay by check, automatic debit, or cash. We send the money electronically whenever we can. If the person or company can't accept electronic payments, we print a check and mail it for you.
Review your payments and bills for the past 84 months in Activity. Also review requests you sent. You can download your payment info to a comma-separated values (CSV) file. You can import the file into a number of different personal financial software applications.
More Convenience
eBills. Save a trip to the mailbox or another website to get your bills. Some of your bills can be delivered right in Bill Pay. You can view your eBills in Payment Center and pay them with a few simple clicks. You decide how much you want to pay and when you want to send the payment.
AutoPay. You can set up automatic payments to be sent according to a schedule you set. You can change or cancel AutoPay at any time.
AutoPay for eBills. You can set up some eBills to be paid automatically according to options you set. You can change or cancel AutoPay for eBills at any time.
Person to Person Payments

Popmoney® is accessed directly through Bill Pay in Online Banking. It is an easy, fast and secure online personal payment service that lets you send and receive money just as easily as sending a text message or email. Do you need to send a payment to a relative, friend or babysitter? No problem! Popmoney® payments can be sent to any personal payee within the United States (includes Alaska and Hawaii, however excludes the U.S. territories).

For more information on Queenstown Bank Online Banking, Bill Pay and Popmoney® , please contact us.